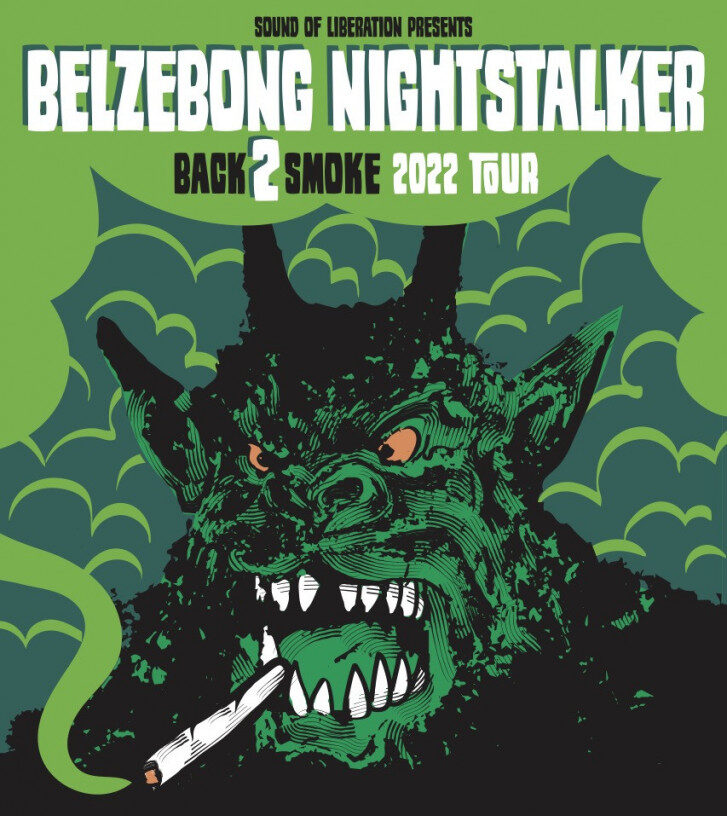 Abgesagt: Belzebong + Nightstalker
12.06.2022
Leider haben wir von der Agentur erfahren, dass die Tour so nicht nachgeholt werden kann.
Bereits gekaufte Tickets können an den jeweiligen Vorverkaufsstellen ab dem 13.06.2022 zurückgegeben werden.
17.02.2022
Leider muss die gesamte Belzebong & Nighstalker Tour wegen weiterer Unklarheit verschoben werden. Wir arbeiten an einem Ersatztermin. Gekaufte Tickets für den 12.03.2022 behalten ihre Gültigkeit. Das Veranstaltungsdatum ist nur fiktiv.
BELZEBONG
You would think, that Belzebong was forged in lava-filled bowels of hell, but you would bemistaken, it was actually Poland. Started off in 2008, since then bringing tons of evil weedianriffage under the sign of the Goat. The band drowns themselves in a sea of distortion, fuzz andenough bottom-end to cure the worst case of constipation – in other words this music will make youshit. Their album "Sonic Scapes & Weedy Grooves" released on Emetic records was a wicked trip downthe hazy and introspective fuzziness associated with a massive blast to the lungs. Followed by "Dungeon Vultures" 12″ EP on Instant Classic label (re-released by Emetic records), brought yetanother dimension of acid-heavy trip through the smoky dungeons. Latest album entitled"Greenferno" (again on Emetic Records) sounds akin to a giant walking the earth, simply movingthings aside without noticing. Headbonging and smokediving they traveled through the vast majority of Europe, visited US andSouth America as well. True evil blues this band has summoned, and you the listener, shall reaptheir rewards, as the new album is coming!
Mit dem Laden des Videos akzeptieren Sie die Datenschutzerklärung von YouTube.

Ihre Auswahl wird gespeichert und diese Seite wird automatisch neu geladen.
NIGHTSTALKER
Nightstalker, the preeminent godfathers of Greek hard rock music scene, boast a 30-year legacy adorned in heavy riffs, hazy smoke, and raw psychedelia. Countless attempts to categorize their unique sound have failed time and time again, as their varied influences have produced an intoxicating mixture of sonic textures you won't find anywhere else. Just like Kyuss, Monster Magnet, Black Sabbath, and Motörhead, Nightstalker have left an unparalleled imprint on the rock underground. The Dead Rock Commandos of Greece offer a discography of eight hard-punching albums that have consistently expanded Nightstalker's template without ever straying from the band's identity. Their latest album, 2019's Great Hallucinations, is auditory proof of the band's extensive experimentation with every illicit substance known to man. With its groovy, catchy riffs and deep, expansive psychedelic tracks, Nightstalker's latest opus is easily the most mature yet trippy body of work the band has ever produced.
Nightstalker was founded in 1989 by the band's frontman and original drummer, Argy. In 1992, Nightstalker recruited bassist Andreas Lagios (ex-Rotting Christ). With Lagios's help, the band released their first EP, Side FX, in 1994. Built off the strength of songs like "Spit" and "Mad Prophet," the album's sound was completely new for Greek audiences, a factor that sparked the fanatic following that still supports the band today. Two years later, Nightstalker released their first full-length album, Use, making 1996 a landmark year for both the band and Greek rock history. After this seminal release, Nightstalker took four years to perfect the tracks for their follow-up EP, The Ritual. The addition of guitarist Tolis Motsios in 2004 brought forth an original, funky, psychedelic masterpiece called Just A Burn. In 2009, the band released Superfreak, the first album signed to a US label, Meteorcity Records, and quickly received international acclaim. Three years later, Nightstalker released Dead Rock Commandos, a standout album that earned them thousands of fans worldwide and produced some of their biggest hits, solidifying them as legends in the hard rock music scene and establishing Children of the Sun as an anthem that would personify the Greek Rock scene for years to come. Their seventh album, As Above, So Below, proved that Nightstalker improved with age and introduced a new element in the band's sound: electric blues. Nightstalker's latest work (the afore mentioned Great Hallucinations) created a frenzy that was, unfortunately, prematurely stifled by the global pandemic. True to form, the band has promised to hit the road as soon they're able to perform live shows again. It's no secret that the band has a long-lasting, almost romantic, affair with the stage. From Greece to the UK, Nightstalker have electrified crowds for 30 years, and they plan to continue for 30 more! While the band has toured long enough to share the stage with rock royalty like Ramones and Uriah Heep, they never tire of performing live. They thrive on it.
Mit dem Laden des Videos akzeptieren Sie die Datenschutzerklärung von YouTube.

Ihre Auswahl wird gespeichert und diese Seite wird automatisch neu geladen.